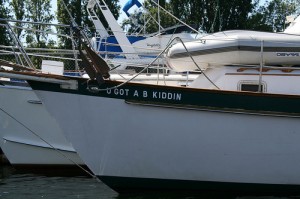 Selecting a quality marine security system can be a challenge in today's market. As boat owners become more concerned with preventing theft and intrusion, the security choices available have increased dramatically. But, some systems may be geared more toward home, business or automotive security; and even within the parameters of expert marine alarm systems, you'll want to choose the right alarm for your boating needs based on size, durability, and whether you want a wired or wireless system.
No matter what type of system you select, you'll want to be sure that the main security control module that handles the operating system and security sensors for your boat alarm is well suited for your vessel. To successfully provide marine security, control modules should include the ability to manage the volume of audible status indicators. Control modules should also be able to be wired right into a boat's twelve volt battery to prevent disruption from battery switching and to increase reliability. This will also keep electrical noise to the control module and sensors at a minimum.
Control modules should also include a varying siren run time, and the ability to activate boarding lights. Be sure that the marine security system you select is capable of informing you of any activity on deck. And, make sure that your system allows deactivation of sensors in the cabin when you're on board. Another important aspect of  marine security system selection is size.Because installation area is limited on most water craft, you'll want to see a powerful security punch packed into a small footprint.
In regard to placement, you'll want to mount your marine security control near the boat's primary electrical area. Don't position the control near gas tanks, your engines or in the bilge. The electrical circuitry in the control module could be a safety hazard if kept too near the tanks or engine; in regard to bilge placement, the module could be impacted by saltwater, humidity, or corroding substances. Also, avoid placing your control system near VHF radios, cell phones, pagers, or long range radios as well. Placing a control module near these devices can create interference in the operation of the system.
And here's one additional caveat for high impact water craft: consider free mounting your control module for these boat types in order to reduce potentially harmful vibrations.
Whatever control module you select, for marine security it's always best to go with a simple system due to the importance of space limitations. Don't over complicate your system by selecting too many sensors or overly intricate wiring. If you keep it simple, your boat's onboard electrical system should make installation easy and efficient.
Image credit