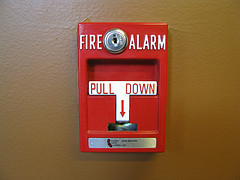 For your home or business, smoke and fire alarms are your partner in protection. Some systems will not only alert you, your family, or co-workers of a fire, but will also contact a professional monitoring service to send help. Others provide more basic over all warning protection. Which ever style of alarm you chose, the detection system will operate either through an optical detection of smoke, an ionization system which checks the air for smoke particles, or by air sampling which uses a physical system to detect smoke in the air.
You choice of smoke alarm should be evaluated in terms of the size of your property, whether you are selecting a comprehensive system that includes the use of a professional monitoring system, and of course both the economic cost and physical space limitations you have regarding setting up such a system.
If you select a system that involves professional monitoring, make sure you research the dependability of the monitoring service. When an alarm goes off, its control panel connects to the monitoring station which in turn quickly notifies the fire department. Speed of response is of the essence, and authorities must be contacted within thirty to sixty seconds after an alarm is triggered. Also a monitoring service should be willing to test your alarm system and phone lines and review their functionality. Smaller alarm companies may rely on third party monitoring stations; if cost is a factor this may be the best choice when selecting a monitored alarm system.
In addition, the central station should frequently activate and test all of your devices and connected phone lines. They're also required by law to maintain accurate logs of activity and system functionality in case authorities want to review incident details.
Of course, you may not need to select the type of fire alarm system that requires professional monitoring. Many alarms are easy enough to install yourself, and effective enough to protect your property. You may also wish to purchase this type of alarm as a back up to a more complete and monitored system.
Another option is to select the system you want, large or small,  and hire an experienced electrician or installer independently to set up your alarm. Lastly, you can utilize an installer recommended by, or provided by, the alarm system manufacturer. Always be sure to test your alarm systems thoroughly once installation is complete no matter who is doing the installing.
Whether you chose an alarm you can install yourself, one that needs an electrician's assistance, or  or one that necessitates a manufacturer-recommended installer, always be sure to consider the components of a fire alarm system in regard to integrating it with other aspects of your home security system. Make sure that it is compatible with any security alarms designed to prevent intrusion or vandalism.
.
Safety always comes first, and fire safety is the most essential of home security equipment.
Fire can happen any time, any place, and having a successfully installed alarm system can literally mean the difference between saving and losing lives.