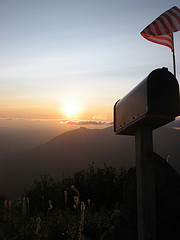 You keep your home secure from intruders, fire, flood and all the dangers that lurk in today's world. But have you considered another security hazard just outside your home? Your mailbox. You may not consider your mailbox a security risk, but you should.
After all, a mailbox contains more than cards and letters from friends and family. It also contains confidential information contained on bills and government forms. Your home security can be seriously at risk from having your mail stolen, and from this theft, having your identity stolen as well. You shred your bills or personal documents once your mail is inside your home, but what is securing this information before it enters your household.
A locking mailbox is the simple but pertinent solution to today's risks of identity theft and financial loss. Regardless of where you live, city or country, suburb or urban environment, your mail can put you at risk. Having a locking mailbox means risk is removed, your mail is secure, and access to your family's personal information is greatly limited.
When purchasing a locking mailbox, you'll want to check with the U.S. Postal Service to be sure the mailbox meets their guidelines and allows for simple mail delivery. And be sure that the mailbox is large enough to handle the mail you most commonly receive. If you receive packages and magazines commonly, be sure your mailbox can handle the flow. And make sure that the mailbox you select is sturdy enough to be secure. If the lock can be easily broken, then the lock is useless as a security device.
Locking mail boxes come in all shapes and sizes. The size and shape that's right for you will depend on the amount of space you have for installation as well as the weather conditions around your home. You'll want to guard against rust, and any potential damage for extremes of heat or cold depending upon where you live. Look for thickness and solidity in construction, the type of lock, the number of keys, and the ease of installation as a wall unit or a freestanding unit. Most locking mail boxes have been security tested to withstand vandalism and even fire. Read the manufacturers specifications on locking mail boxes to decide which one is best for you and to discover first hand just how sturdily a particular unit is constructed.
While a locking mail box may seem a simple tool to keep your family from harm, utilizing such a device is often over looked, even while one's home is itself protected with high tech motion sensors and fully monitored alarm systems.
If you're aware of the hazards that face your home today from would-be intruders and burglars, then you should also make yourself aware of the potential for intrusion and theft in regard to the personal information contained in your mail. Keeping your family and your personal information safe means that you simply must secure your mailbox as well as your home – in order to keep your family and your possessions safe and secure.
Image credit